References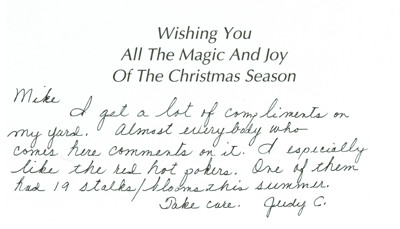 Reference courtesy of Brian DePreist, Architect & Owner Jack & I would like to extend our deepest appreciation toward the outstanding efforts of High Desert Gardens toward the design & installation of the landscaping here at Casa Sydroya. The design, scheduling and execution of the landscaping was of the highest level of professionalism. In particular, we wish to thank the outstanding efforts of Paul & the rest of your staff. Their expertise and customer friendly approach were integral to the success of this project. I look forward to the opportunity of working with you on all of my future projects. We also extend our on going invitation to High Desert Gardens, Inc. toward future showings of your work to prospective customers here at Casa Sydroya. Again, Mike many thanks for a superior job. -Brian DePreist, Architect & Owner.


Reference courtesy of Debi Kline
Thank you for your wonderful flair. I know it wasn't that big a project but we really appreciate the fact that you could complete it so quickly and thoroughly. Nick was great–as was the whole crew. They put up with all our annoying questions & suggestions. The landscaping will look even better as it fills in. I will take a picture in about a month so you can see the before & after. Its nice to know that we found a landscape company to work with us through the years to get our yard in pristine shape. We are glad to have found you. -Debi Kline Corrales, New Mexico.


Reference courtesy of David Pilar
The yard looks great! Thank you for designing such a practical plan for us. And for making it look so great. Please extend our appreciation to your crew. They were very courteous and conscientious. Feel free to use us as a reference and we will recommend you to others. Thanks again, David Pilar.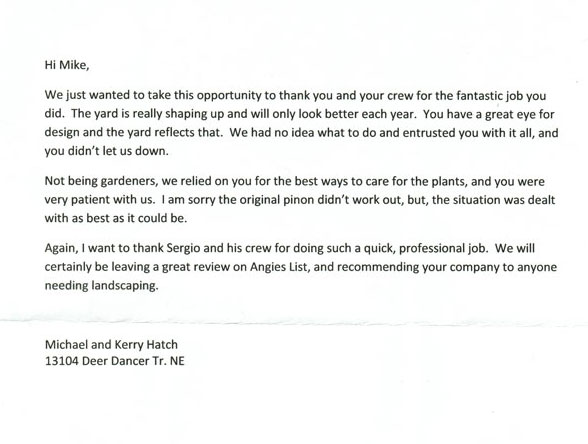 Dick Snyder (505) 856-5097
Barbara White (505) 266-3175
Pam Matthews (858) 354-4405
Sally Scott-Mullins (505) 379-1709
Linda Vath (505) 235-0399
Chuck and Ann Dimas (505) 610-8724
Jane and Bill Kellerman (505) 332-4742
Nancy Carress (505) 220-9569
Debbie Rivera (505) 228-2797
Cathy Binger (505) 263-0036
Joe Allred (505) 730-1921
Lanny Webber (505) 205-5883
Charles and Barbara Marx (505) 967-6116
Susan Richmond (505) 922-1417
Resa Johnson (505) 235-6735
Mike Murtagh (505) 239- 5249