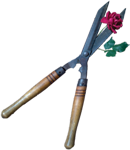 What Clients Say
I have used The Garden Nanny for a number of projects, small and medium in size, including cleanups and installations. Without fail they have been stellar in professionalism, knowledge, work ethic, price, etc. Leslie worked with me through several visits and email exchanges to create a design that met my needs and values and at a good price. The work crew is absolutely delightful, extremely hard working, courteous, and always go the extra mile to do the job better than expected. They even transplanted several small cacti for me and did some trimming that was not on the agenda for today, but it was done in the interest of not missing a step in their work. My yard was a vast spread of crusher fines and dirt with a little cobble to define some areas before this transformation. I can't say enough good about this company, and couldn't be happier with all my interactions with them.
B.R. Abq.
Landscaped front yard with a few plants and a tree. |Leslie is very professional. The work was exactly what I wanted.
M.L., Abq
Cleaned out flower beds, added new soil and mulch, planted 35 new plants and flowers. Also advised me about fertilizer and watering. They worked closely with me to plan types of plants and placement in the garden beds. They submitted a design sketch which I approved, and delivered exactly what they promised. I plan to use this service again in the Spring to prune and cut back overgrown plants, and to prepare the beds for planting.
C.S., Abq
Very punctual, responsible and interested in their own work quality. Showed personal interest in the customer and the yard work.
S.T., Abq
Cleaned my property of weed and a dead tree. It looks good for now. They did a very good job.
K.T., Rio Rancho
Trimmed shrubs and trees. Weeded rocked in perimeter. Weeded and raked back yard. Looks great. Good people to work with. Responded promptly. Fair price. Excellent service. I highly recommend the Nanny.
M.S., Abq
Cleaned up my landscaped front yard. It looks almost as good as when the landscaping was originally done! Love it!
D.S., Abq
The Garden Nanny's crew did a fantastic job of weeding my front, back and side yards; trimming bushes, shrubs and tree limbs as needed; and cleaning everything up perfectly. I was very impressed and will definitely use them again and have also recommended The Garden Nanny to my neighbor and friends.
A.O.,Abq
We use the Garden Nanny for yard maintenance. They do trimming of bushes, cleaning up weeds and that type of thing. They remove the leaves and haul them. When they came the first time, they came and listened very carefully, found out what we wanted and did exactly what we said. They'd offer good advice if you ask. They seemed to really know what they're doing. Everything was done correctly and they were really thorough. I think it probably took them longer than what they had put on the first thing but she said that it's gonna take them longer but we won't get charged more. Everything was done very nicely and they cleaned up very well. We didn't have to go and pick up a stick after they left. They were thorough. It was very nicely done. Everything went really nice. We even got a letter from our homeowners association that said that our yard looks beautiful and it was them. They were the ones that had done it. It was really nice.
They're very good. T.F., Abq
Excellent, from first contact and estimate to the final clean up I was floored by the job done by the crew. Leslie made sure I was introduced to each worker who were friendly and not the least bit put off by my questions. The digging in preparation for the tree planting was done with care not to damage the questionable irrigation system. They made sure their truck and trailer were not a hindrance to the neighbors. They worked with speed and accuracy and it was more than reasonably priced. If I ever want additional landscaping The Garden Nanny will be my first choice.
M. VR., Rio Rancho
**Note, we did install new landscape 2015. The Garden Nanny
It went fantastic, we are calling them again this fall to finish the front of my house. I would highly recommend them, she is a delight to deal with and her workers are amazing, we planned to schedule them on a regular basis because there work is awesome. I can't say enough good things about them.
B. and G. G., Abq
Yard clean up and bimonthly maintanance. The two men arrived on time, ready to work. They did a great job and the yard looks terrific.
D. H-M., Los Ranchos
She was an excellent contractor and communicator. She came over to the job sight prior to the work being done to make sure that a report that she received was actually an error by the utility companies involved. She involved me in every step of the process. The crew showed up right on time. They had all of the proper tools and they were done within 45 minutes taking out a large Yucca Tree. They were professional, worked well together and they were fun to learn from. It did not bother them that I watched almost the entire process because I was curious about the Yucca, the root system and the removal process. I never doubted that they would have done an excellent job without me watching. What took them 45 minutes for them would have taken us at least 3 hours. This was well worth our money.
T.C., Rio Rancho
Full front & backyard clean-up including removal of dead bushes; pruning of multiple hedges/trees; pulling weeds out of yard and hardscape areas; raking of debris; clean-up and removal of yard waste; blowing/clean-up of total yard area. Leslie made an appointment to do the initial assessment/consult about the work to be completed and put together the bid. As promised, she sent the formalized bid by email with a very quick turnaround. It was accurate based-on what we had discussed and we moved forward accordingly. Leslie worked schedules so that the service could be provided as quickly as possible and to work around my travel, giving me a heads-up during the initial consult around what the scheduling timeframe might look like. The day of the service, as discussed, the crew called to let me know what time they would arrive, and were on time as indicated. The crew was simply great -- professional, personable, focused, efficient, and clearly knew exactly the work to be performed. It was evident that Leslie had done an excellent job in communicating to her team about what needed to be done and the work that had been agreed to complete. No quibbling, questions, etc. -- they were there to do the work and quickly got after it! This is exactly the type of service that I had been hoping for, from initial contact by Leslie to the completion of the work -- my expectations were exceeded! Thanks Leslie, David, and Gene for great work and your professionalism!!
J.T., Abq
From estimate to completion, this was a fantastic experience. I received a prompt, detailed, and courteous reply to my request for an estimate. Leslie gave me a lot of information about the plants in my yard and proper care. The two men who came to do the work were very polite, professional, attentive to detail and my special concerns, and they worked diligently and swiftly. They accomplished a tremendous amount of work and did so proficiently and professionally. They were a pleasure to have around as they worked on my entire yard. The results are far better than I ever expected - beautifully done and a yard to be proud of! They also gave me tips on proper care and maintenance. This was an exceptional experience, well done and at a very fair price. Thank you, Garden Nanny!
B.R., Abq
Excellent crew, very professional job, yard was immaculate when they finished. I was especially impressed with their pruning work.
K.S., Rio Rancho
We contacted The Garden Nanny to enlist professional help in trimming the red photynnia and large rose bushes in the yard of the home we are leasing. We wanted the job done professionally, as we did not have tools or expertise to do it correctly. Leslie LaBry came to our home, reviewed both front and back yards, and provided a detailed written estimate. We scheduled a date for services. Leslie LaBry and her 2 assistants arrived at our home at the appointed time/date. She reviewed the work with both myself and her crew. The two gentlemen went to work straightaway and were very polite and professional. They answered any questions we had as to maintenance, future pruning, etc. The crew cleaned up all the dead leaves left over in the yard and all the clippings. We will certainly be using The Garden Nanny in the future to maintain the yard.
A.T., Abq
I used The Garden Nanny to clean up my beds and prune my roses about a month ago. They also removed some dead in my snowball tree and ripped out some ivy. They cleaned out the dead part of a fig tree and planted a little bush for me and a juniper. I used her another time to trim my trees and some bushes and clean up the yard. Her name is Leslie. She is very good. She keeps her word and will call and let me know when she is coming so that impresses me. She doesn't change the dates on me. She has sent two different teams and they both did excellent work. Her prices are very reasonable. They are very efficient and very fast. She really tries hard to schedule when it is convenient for me and she keeps her appointments.
D.R., Abq
Outstanding service and work performance. I appreciate that very much. Would highly recommend The Garden Nanny to anybody needing yard work done.
L.F., Rio Rancho
Removed extensive weeds/grass from side of house and replaced weed barrier and round stone. They did an amazing job! Leslie always got back to me and kept me informed. The workers were on time and did an amazing job! We were so pleased. They were also very polite and professional. Can't say enough good things about Garden Nanny!
M.H-D., Rio Rancho
I am getting ready to sell my condo and I wanted professional help to clean up the landscaping on my patio for showing. The patio is small, but it had been taken over by an overgrown tree, a unruly rosemary bush and needed general clean up. The Garden Nanny team pruned the tree and the rosemary, cleaned out other weeds and dead plants, and hauled away the waste.They did a great job! Leslie got back to me right away, even though I called late Friday. She came to my house the following Monday to look at the patio and give me an estimate. She explained everything they would do and answered all my questions. Then her team came out the same day and completed the work. They whole team was easy to work with and the results were great! In addition to basic pruning, they shaped the rosemary and performed other clean-up work to make the place look more attractive. Even though this was a small job, they treated it with the professionalism and courtesy of a big job.
C.G., Abq
"Thank you & David for the beautiful work you just completed on my entry way. It was a wonderful experience working two professionals. Looking forward to working with you in the Fall on my next project.Thanks again,"
Mary
"Last year, we had Leslie and her crew do several things for us in our yard, including replanting a small flower bed area, pruning, and perhaps most importantly, consulting with us on problem areas, plants, and sprinkler issues. Leslie always did what she said she would do in a timely and professional manner. Leslie's charges were reasonable and she was very responsible in addressing any concerns we had about the work that was done. This year we intend to hire Leslie for additional projects and to utilize her expertise on what our plants and yard need".
-Sally and Melissa Scott-Mullins
"Two weeks ago The Garden Nanny replaced the boring crusher fines in my front yard with beautiful cedar matting that transformed my yard into a warm earthly-looking woodland. I am very happy to find that in addition to providing excellent water retention, it provides a very reliable low maintenance alternative to crusher fines. In fact the morning after 50 mph canyon wind gusts tore across my yard, not a bit of groundcover was out of place. I highly recommend this groundcover for new yards and instant makeovers. I love my new yard and enjoyed working with Leslie and her crew on the project. I recommend The Garden Nanny to anyone looking for yard cleanups and makeovers."
- Robin Curl
Thank you so much Leslie and David for giving me all the knowledge I needed to be able to make an informed decision about how to get my 80 roses and other plants trimmed and watered again without replacing the entire irrigation system and landscaping. You started this morning with an overgrown yard that looked like a forest and finished the same day with plants trimmed as they should be , the yard cleaned, mulched, and looking better than it has in a very long time.

You are both so knowledgeable about plants, irrigation systems, and everything that has to do with landscaping. You are so patient and willing to help me get my landscape as it should be without completely doing new landscaping. you even got me prices for various plants and garden items that I had been considering.

Now that I know you will keep my yard maintained as I like it, it may mean I will be able to live in my home for a longer time than I would want to otherwise. It has been very nice working with another woman in what is usually a man's world. Very glad that Mike Dooley recommended you. Thanks Mike also for all the information that you gave me that enabled me to get to this point.
Thanks to you I look forward to a well kept yard from now on.

I have had the pleasure and satisfaction of using the yard services that Leslie LaBry, "The Garden Nanny", has provided for several years.

Leslie is extremely professional and knowledgeable in any task she undertakes. She has a very good eye for designing and planting large areas. She is extremely hard working and works non-stop until a project is totally finished and acceptable. There is no aspect in landscape design, pruning, and planting that she is not knowledgeable of. Her pricing is very fair. She is trustworthy and honest in all of her dealings with a customer.

The first time I had help from Leslie was when I had bulbs and pansies that needed to be planted in a front garden. She had all of the tools and skills needed for preparing the soil, designing the areas and planting the bulbs and pansies. The bulbs bloomed and the pansies are still blooming. I later had Leslie design, select plants and plant a large area in another yard.

I had a side yard that needed a lot of plant removal and rose bushes that hadn't been cared for in years. She removed the unwanted plants, expertly pruned a variety of bushes and demonstrated her excellent rose pruning skills.

When she needs extra help on a project, she has a helper who is extremely knowledgeable, fast and competent, also.