Mike Dooley Pens How-To Book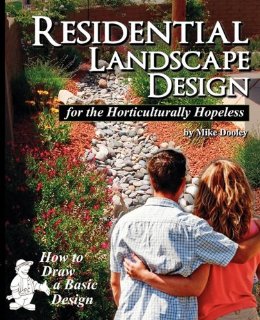 Enter any home improvement center and you'll see them almost immediately: rack after rack of how-to books covering a myriad of house and garden projects. For what homeowner doesn't dream of achieving at least a modicum of do-it-yourself proficiency, even if that proficiency is limited to spiffing up the yard?
According to Mike Dooley, owner of Dooley Landscape Design, although the market features plenty of books on plants, few publications are written specifically to help do-it-yourselfers design and create beautiful, easy to install, and easy to maintain landscapes. "There's a giant gap in knowledge when it comes to landscaping," he says. "You won't have a problem finding someone to do it for you, but if you want to do it yourself, you're left hanging."
To fill that gap, Mike recently put pen to paper and completed his first book, "Residential Landscape Design for the Horticulturally Hopeless," which will be available for purchase through Amazon.com at the end of this April. Utilizing his 29 years of experience creating landscapes that beautify and add value to his clients' homes, Mike has written an easy-to-use, detailed guide that walks readers through each step of the landscape design process.
Low-maintenance, high-color landscapes like this one from HighDesertGardens are a dream come true for homeowners. It's beautiful, manageable and adds value to your home.
The first step is to create a detailed plan. "It's like working on a car," he explains. "Just because I go to the auto parts store and buy a bunch of parts, that doesn't automatically make me a mechanic. A lot of homeowners will go out and buy a bunch of beautiful plants and flowers, but when they get home, they don't know what to do with them."
Even if you buy pre-existing design plans, Mike points out, they can run anywhere from $200 to $300 — money better spent on plantings and supplies. Besides, most plans are not specific enough to address the homeowner's individual site, geology, or budget. That's where Mike's book comes in.
"Residential Landscape Design for the Horticulturally Hopeless" teaches readers how to accurately measure their property and then create a detailed scaled drawing that will serve as their landscape design plan. From there, Mike offers advice on how to work up a master list of plants specific to readers' sites, needs, and geography, and to draw those plantings to scale within their master plan. To help with placement, the book includes 23 front and backyard layout diagrams with suggestions on where to plant trees, shrubs, grasses, and flowers depending on their size, height, color and function, as well as the yard's shaded and sunny areas.
"I spent a lot of time researching this topic. As far as I know, this is the only book on the market that takes homeowners through the entire landscape design process, start to finish," says Mike.
Readers who decide to remain hopeless and hire Dooley Landscape Design instead will have access to the same knowledge and expertise. For instance, Mike's website, www.highdesertgardensinc.com, serves less as an advertisement and more as a tool to help clients begin the process of creating their dream landscape. In preparation for their appointment, clients are encouraged to log onto the site, where they can not only browse a variety of photos illustrating Mike's work, but also create and download a master list of plants and design features they find appealing. While not mandatory, this list helps inform clients about available options and gives Mike an idea of their taste, budget and needs. The website also features 18 videos offering invaluable tips for year-round landscape care and maintenance.
Once he meets with a client, Mike spends a great deal of time discussing their needs. Are they looking for a low-maintenance xeriscape, or do they have the time and energy for something higher maintenance, including a lawn? Do they need to expand or cover their patio? Do they envision creating a water oasis for birds or an outdoor kitchen for entertaining? Once these and other questions are addressed, Mike presents his client with a proposal that includes detailed, to-scale drawings of landscape and hardscape features, a firm estimate of the costs involved, and a timeframe for completion. "My goal by the time I present my plan is to ensure there are no surprises."
So whether you decide to go it alone or retain the services of an experienced professional, Dooley Landscape Design is your one-stop resource for achieving a beautiful, cost-efficient, and easy-to-maintain landscape. Give Mike a call at 400-0257 to schedule an appointment before the spring rush.

Copyright 2011 Mike Dooley. All rights reserved.